"If the French had the firmness
and the docility of the Russians
the world would not be great enough for me."
- Emperor Napoleon
Brief History of Russian Empire and Army.
"Russia, as much by her position
as by her inexhaustible resources,
is and must be the first power in the world."
- Russian Chancellor Rostopchin
During the XVIII and XIX century Russia's diplomats and army made it one of the most powerful states in the world. Catherine the Great worked hard at organising the state, involved herself in the affairs of Europe, and initiated an aggressive foreign policy which over few decades was to add the whole of Finland, (ext.link) what are now Estonia, Latvia, Lithuania, Belarus and Ukraine, (ext.link) most of Poland, the Crimea, some of what is now Romania, the Kuban, Georgia, Kabardia, Azerbaidijan, part of Siberia and Kamchatka to her dominions, as well as part of Alaska (ext.link) and a military settlement north of San Francisco (ext.link).
"This not only increased the size of Russia, it also brought her frontiers 600 km further into Europe... By 1799 Russian armies were operating in Switzerland and Italy." (Zamoyski - "Moscow 1812" p 17)
Russian Chancellor Rostopchin wrote: "Russia, as much by her position as by her inexhaustible resources, is and must be the first power in the world." Many in Europe were alarmed at this seemingly inexorable onward march of Russian power. There was talk of ravening Asiatic hordes and some fear, that Russia might engulf the whole of Europe as the barbarians had done with ancient Rome.
When Revolution in France erupted Russia promised that the rule of mobs in France would soon end and true order of matters would be restored. Russian aristocrats were shocked when the citizens in France proclaimed "liberté, egalité, fraternité" and the country of high culture, the language of which was spoken in salons from Madrid and London to Berlin, Warsaw, Vienna and Rome found itself in the hands of the revolutionaries. This drew Russia into a series of wars against France and her neighbors, which had far-reaching consequences for Europe.
Russia was torn between Asia and Europe and only sparsely settled. The vast land together with the long winters produced the melancholy and mystery not felt in any other country. According to Paul Austin when in 1812 Napoleon's army entered Russia, the troops were "a bit frightened at the sight of so sparsely populated and poverty-stricken a countryside. Dedem finds himself in 'a desert' ... Bonnet of the 18th Line, Ney's III Corps ... is shocked to see how the peasants' clothing consists of only "a shirt, a pair of coarse cloth trousers, a hooded cloak of sheepskin and some kind of a fur cap." ...
As for their villages, they're even more squalid than the Polish ones. ... General Claparede, writes home to his young bride: 'The inhabitants and their houses are very ugly and extremely dirty, and the latter only differ from the peasants' log cabins in possessing a chimney or two.' ... Although General Compans, commanding Davout's crack 5th Division, is finding the countryside 'quite attractive' ..." (Austin - "1812 The March on Moscow" p 59)
The city of Vitebsk made poor impression on the French "From the outside the houses, all higgledy-piggledy, small, low and built of wood, have the most wretched appearance" according to General Berthezene.
But the road to Moscow is a masterpiece - according to Captain Breaut des Marlots "you can march along in 10 vehicles abreast." Moscow made impression on the enemy: "The sun was reflected on all the domes, the spires and gilded palaces. The many capitals I'd seen - such as Paris, Berlin, Warsaw, Vienna and Madrid - had only produced an ordinary impression on me. But this was quite different !" - wrote Bourgogne. Griois writes: "In no way did it resemble any cities I'd seen in Europe."
Moscow and St.Petersburg were the largest Russian cities. St.Petersburg was a planned city of canals and straight streets, reflecting the rationalizm of Peter the Great.
By contrast, Moscow had grown more spontaneously, and its many large gardens and old churches made it seem more rural, religious, and 'Russian' than St.Petersburg.
Richard Rhein writes: "Moscow in 1812 was a sprawling city of about 250,000 inhabitants during the fall. Throughout the winter months, when the nobles and their serfs returned from their country estates, the populationwould increase by about 100,000."
The inhabitants of St.Petersburg were more open to foreign ideas
and less slothful and superstitious than those of Moscow.
Serfdom was not the original status of the Russian peasant. It was one of the consequences of the Tartar devastation during the 13th century when peasants became homeless and settled on the land of wealthy Russians. By the end of the 16th century the Russian peasant came under the complete control of the landowner and during the middle of the 17th century serfdom became hereditary. Their situation became comparable to that of slaves in USA and they could be sold to another landowner in families or singly.
By the 19th century it was estimated that about 50 per cent of Russian peasants were serfs. Willian Napier calls it "the most formidable and brutal, the most swinish tyranny that has ever menaced and disgraced European civilization." (Napier - "History of the War in the Peninsula 1807-1814" Vol IV, p 167)
The peasants and serfs were engaged in agricultural work on fields and farms and with herding the livestock. From May through October they commonly worked barefoot. In colder times they had their feet wrapped in clothes over which was fitted a basketwork affair. They wore rough shirts and trousers made from canvas and often slept on straw or dry hay.
By 1800, the nobles of the empire made up more than 2 % of the population. The nobles measured their wealth primarily by the number of male serfs they owned. Most young nobles were forced by economic need to serve in the military.
From Mongol Yoke to the "Time of Troubles."
Polish troops captured Moscow in 1610.

The invading Mongols accelerated the fragmentation of the Ancient Rus'. Although a Russian army defeated the Golden Horde at Kulikovo Pole in 1380, Tatar domination of the Russian-inhabited territories, along with demands of tribute from Russian princes, continued until about 1480.
Ivan IV, the Terrible, (ext.link) first Muscovite tsar, is considered to have founded the Russian state. Death of Ivan's childless son Feodor I was followed by a period of civil wars and foreign intervention known as the Time of Troubles. It was a period of Russian history comprising the years o interregnum between the death of the last of Moscow Rurukids Dynasty, Tsar Feodor I, in 1598 and the establishment of the Romanov Dynasty in 1613.
The succession disputes during the Time of Troubles caused the loss of much territory to the Poles and Swedes. In the battle of Orsha 25.000 Poles and Lithuanians routed 40,000-80,000 Russians with 300 guns.
In 1610 in Klushino 7,000 Poles mauled 40,000 Russians and Allies. Muscovy lost control over western territories and even Moscow itself was captured by Polish troops in 1610. (ext.link) The Time of Troubles was brought to an end when a patriotic volunteer army expelled the Poles from the Moscow Kremlin and anational assembly, elected to the throne Michael Romanov. The Romanov Dynasty ruled Russia until 1917.
Peter the Great and "Progress Through Coercion."
One new item after another was taxed, from beards to watermelons.
Most revenue went for military needs, for as Peter stated:
"Money is the artery of war."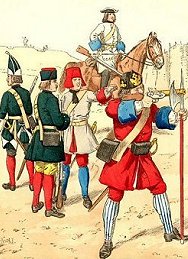 Tzar Peter the Great achieved Russia's expansion and its transformation into the Russian Empire through several major initiatives. He established Russia's naval forces, reorganized the army according to European models, streamlined the government, and mobilized Russia's financial and human resources.
The army was new and huge.
By 1725, Russia had an army of about 200,000 regular troops and about 100,000 Cossacks. Army recruits were sometimes chained together on their way to military service. Beginning in 1712, recruits were branded on their left arms, thereby facilitating the apprehension of runaways. By the time of his death in 1725 Peter the Great had placed Russia among the foremost European powers, and had created a military system that has infuenced the European balance of power until the present day.
The reformed Russian army won a major victory at Poltava and have anded Sweden's role as a Great Power. It the most famous of the battles of the Great Northern War (45,000 Russians defeated 17,000 Swedes + 8,000 sieging Poltava). Several thousand prisoners were were put to work building the new city of St. Petersburg. Swedish King Charles managed to escape and spent five years in exile there before he was able to return to Sweden.
Palace Coups.
Peter III changed the army's uniform
to look like Prussia's,
insulting the soldiers greatly
The third of a century between the reigns of Peter the Great and Catherine the Great was an era of palace coups, court favorites, heightened noble privileges, and several distinctly nongreat monarchs. During the rule of Peter's successors, Russia took a more active role in European statecraft. Russia's greatest reach into Europe was during the Seven Years' War. In 1760 Russian forces were at the gates of Berlin. Fortunately for Prussia, Russian monarch Elizabeth died and her successor, Peter III, allied Russia with Prussia. Although he was tolerant of Catherine the Great's marital indiscretions, he was little worried about bastard children eventually following in his footsteps to the Russian throne. At one point, he exclaimed, "God knows where my wife gets her pregnancies!" :-))
Although he was a grandson of Peter the Great, his father was the duke of Holstein-Gottorp, so Peter III was raised in a German environment. Russians therefore considered him a foreigner. Making no secret of his contempt for all things Russian, he went so far as to have a ring made with a picture of Prussian king Frederick the Great set in it which Troyat claims, "he would kiss fervently at every opportunity."
Peter III changed the army's uniform to look like Prussia's, insulting the soldiers greatly - the Russian army had been fighting the Prussians for almost a decade, and were fairly indignant about suddenly having to look like them: "The hearts of the greater number of them were filled with grief, and with hatred and contempt for their future Emperor."
Russia and the army under Tzar Paul.
Paul ordered more than 20,000 Cossacks
to cross Central Asia and invade British India.

Tzar Paul was determined that the soldiers should be treated well. The monarch increased the pay for ordinary soldier and intended to curb the drunkenness of the officers, their gambling and the frauds they perpetrated at the expense of the soldiers. The monarch dismissed 340 generals and 2,261 officers. Approx. 3,500 officers resigned.
Tzar Paul however failed to grasp the difference between mechanical drills amd what was really practicable in combat. In 1796-98 were issued 'The Infantry Codes.' General Suvorov dismissed them as a rat-chewed package found in a castle and made no attempt to enforce them among his troops.
Polish revolutionary leader Tedd Kosciuszko fought the Russian on several occassions, and wrote: "When they are on the offensive they are fortified by copious distributions of alcohol, and they attack with a courage which verges on a frenzy, and would rather get killed than fall back. The only way to make them desist is to kill a great number of their officers ...The Russian infantry withstand fire fearlessly, but their own fire is badly directed ... they are machines which are actuated only by the orders of their officers."
"Paul hated revolutionary France and feared its advances in the eastern Mediterranean. ... Russian forces fought on both land and sea. Most notable were Gedneral Suvorov's victories against the French in Italy and Switzerland. ... But discord among coalition members led to Russia's withdrawal from the Second Coalition in 1799. ... Hoping, with Napoleon's backing, to gain Constantinopole and Balkan territories, Paul agreed to support France against England. Shortly before his overthrow, Paul ordered more than 20,000 Cossacks to cross Central Asia and invade British India." (Moss - "A History of Russia" Vol I, pp 338-9)
General Alexander Suvorov.
He was reckoned one of a few generals in history
who never lost a single battle.
Russia against Napoleonic France.
As a major European power, Russia could not escape the wars
involving revolutionary and imperial France.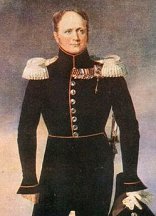 Russia during the Napoleonic Wars was ruled by Tsar Alexander I. He succeeded to the throne after his father was murdered. Young Alexander sympathised with French and Polish revolutionaries (Kosciuszko Uprising), however, his father seems to have taught him to combine a theoretical love of mankind with a practical contempt for men. These contradictory tendencies remained with him through life and are observed in his dualism in domestic and military and foreign policy.
Napoleon thought him a "shifty Byzantine".
Castlereagh of Britain gives him credit for "grand qualities", but adds that he is "suspicious and undecided". Alexander however was the most influential person in Allies headquarters in 1813-1814.
The first ten years of Alexander's reign witnessed even longer periods of war in the south against Persia, Caucassian peoples and especially against Turkey. As a major European power, Russia could not escape the wars involving revolutionary and imperial France.
These campaigns began in late 1790s and ended in 1814-1815 and were ones of the most intensive fightings in Russia's history. It was a long and rocky period with many changes in the army. When Tzar Alexander came to power he halted the germanization of the army and in 1802 many Prussian distinctions were abolished.
Fearing expansionist ambitions of Napoleon, Alexander joined Great Britain and Austria against Napoleon. Meanwhile mutual suspicion between Great Britain and Rusia eased in the face of several French political mistakes.
In 1805 Britain and Russia signed an offensive alliance directed against France. They were joined by Austria and Sweden. The Orthodox Church in Russia designated " Napoleon as the anti-christ and the enemy of God for having founded a new Hebrew Sanhedrin, which is the same tribunal that once dared to condemn the Lord Jesus to the cross."
The Russian army had many characteristics of ancien regime, senior officers were largely recruited from aristocratic circles, and the Russian soldier was regularly beaten and punished to instill discipline. Furthermore, many lower-level officers were poorly trained. Austrian army invaded and occupied Bavaria; French troops crossed the Rhine River. Napoleon defeated the Austrians at Ulm and then occupied Vienna. In December Napoleon decisively defeated an Austro-Russian army in the battle of Austerlitz.
In 1806 the outdated system of dividing the army into columns and brigades of various strength was abandoned. Also most of the inspections were abolished and replaced by numbered divisions.
Average division consisted of:

4-6 infantry regiments

2-4 cavalry regiments

Cossacks

strong artillery

In 1806, Prussia joined the Fourth Coalition fearing the rise in French power after the defeat of Austria. Prussia and Russia mobilized for a fresh campaign. After Napoleon's humiliation of Prussia at Jena, the French Emperor turned his attention to subduing his Russian foe and marched into Poland in the winter of 1806. Six months later, the Russians had been beaten in Eylau, Heilsberg and Fredland and brought to the peace table and Napoleon was at the height of his power. The French drove Russian forces out of Poland and created a new Duchy of Warsaw.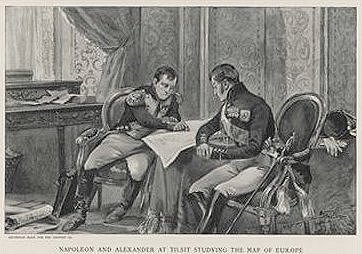 Few days after the battle of Friedland, Napoleon and Tzar Alexander met at Tilsit on a raft in the middle of the Nemunas. The treaty ended war between Russia and France and began an alliance between the two empires which rendered the rest of Europe almost powerless. However, Napoleon's matrimonial plans to marry the tsar's sister were stymied by Russian royalty.
France and Russia secretly agreed to aid each other in disputes - France pledged to aid Russia against Turkey, while Russia agreed to join the Continental System against Britain. Napoleon also convinced Alexander to instigate the Finnish War against Sweden in order to force Sweden to join the Continental System. Russia agreed to evacuate Wallachia and Moldavia, which had been occupied by Russian troops. The Ionian Islands, which had been captured by Russian navy, were to be handed over to the French.
In 1810 General de Tolly introduced military attaches. These were military agents who collected information and were attached to Russian political missions in Paris, Warsaw and Vienna.
In 1810-1812 de Tolly, Volkonskii and others analyzed the French army, its organization, structure and methods of combat. They introduced many changes, including brigades and divisions with permanent structure and staff, infantry and cavalry corps etc.
The influence of modern military ideas from France was a gust of fresh air. "Napoleon had many admirers in Russia particularly among the young - some of whom would be drinking his health even after the war with France had began." (- Adam Zamoyski)
The Russo-French alliance gradually became strained. France was concerned about Russia's intentions in the strategically vital Bosporus and Dardanelles straits. At the same time, Alexander viewed the Grand Duchy of Warsaw, the French-controlled reconstituted Polish state, with suspicion. The requirement of joining France's Continental Blockade against Great Britain was a serious disruption of Russian commerce, and in 1810 Alexander repudiated the obligation. In June 1812, Napoleon invaded Russia with a force twice as large as the Russian army facing him. He hoped to inflict a major defeat on the Russians and force Alexandr to sue for peace.
Refusing to be cowed by the monstrous international army on his borders, the Russian monarch made crystal clear to Napoleon's messenger Narbonne: "All Europe's bayonets on my frontier won't make me alter my language."
Reformed Russian army performed well in 1812 and ended up as the winners. By the way, many battles were fought with the Russians being weaker in numbers than the French.
- Smolensk: French 50,000 - Russians 30,000
- Shevardino: French 30,000 - Russians 18,000
- Valutina Gora: French 42,000 - Russians 21,000
- Mohilev: French 27 000 - Russians 21 000
Article: Napoleon's Invasion of Russia, 1812
Generally the Russian victories in 1812-1815 are little known as the western authors used mainly French sources. Only recently more balanced books were written. The battles of Borisov, Jakubovo, Jonkovo, Krasnoi, Liakhovo, Mir, Romanov, Polotzk 2nd, Smoliany, Viazma (French losses 8,000 - Russian losses 2,100), Vinkovo (French losses 3,600-4,000, Russian losses 500-1,800), - these are Russian victories.
After the battle at Valutina Gora, Napoleon made remark that he likes when there are 3 enemy to 1 dead Frenchman. According to Gelder however, Marshal Murat "had the corpses of the French dead stripped. He wanted to make Napoleon believe all those he saw were Russians." (Austin - "1812: The March on Moscow")

In Vyazma, approx. 25,000 Russians defeated 35,000 French, Poles and Italians. Kutuzov was unable to hold back his troops in their anxiety to catch up with the fleeing French. Davout's highly trained I Army Corps was cut off from Napoleon's army. Eugene's and Ney's corps and Poniatowski's Poles turned back to free Davout. The fighting was hard. The French at the cost of 8,000 killed, wounded and prisoners managed to break through. The Russians suffered only 2,100 casualties. Davout's corps was rescued although was in total disarray. There is not a single book in the west devoted to this battle.
In 1813 Russia had opened the campaign single-handed, and in which was afterwards joined by Prussia and Austria. The driving and decisive force was the Russian army. Without it the Prussians wouldn't even dream to move their finger against Napoleon. Witnesses described the King of Prussia as Tsar's aide-de-camp or lackey. Since 1815 the Prussian uniform was modeled on Russian design as Russian military enjoyed great reputation after the Napoleonic Wars. The Austrians were repeatedly beaten by Napoleon and were so well behaving that they even supported Napoleon in 1812. Russian victory in 1812 encouraged them to stand up and fight in 1813. Without Russia, the Austrians would be under French boot for long.
Below: allied armies in the battle of Leipzig in 1813.

infantry battalions
cavalry squadrons
Russian
Army
215

234

Austrian
Army
115

127

Prussian
Army
110

121

The Tzar was determined to defeat Napoleon and 'liberate Europe'. He said "I shall not make peace as long as Napoleon is on the throne." And so he did.
In 1813 the Aliies defeated Napoleon's troops in Germany and again in 1814 in France. Tzar Alexander triumphantly entered Paris and the Russians camped in front of Napoleon's palace. Napoleon made remark: "The Russians learned [how to win]."
The wars were over and the period of nine consecutive campaigns in which the Russian troops participated came to an end; Finland was captured, Sweden was defeated, war with Turkey was won, Caucassus and Poland were taken, Germany and Prussia were liberated, Paris captured and the mighty Napoleon was crushed.
Battle of Heilsberg 1807 ~ Battle of Borodino 1812
Battle of Dresden 1813 ~ Battle of Leipzig 1813
Battle of La Rothiere 1814 ~ Battle of Paris 1814